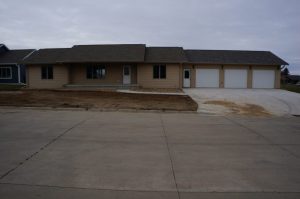 Rock Valley Spec House Fundraiser
The number of contractors and willingness of those involved in this project has been great.  We have the house finished and have listed it with Vande Vegte Zomer Realty.  To view additional pictures, a more detailed description, or to schedule a viewing please visit their site. http://vanzomrealtyauction.com/web/property/justice-for-all-1525-30th-ave/
Thank you again to the many contractors, electricians, plumbers and volunteers who helped in this fundraising effort to benefit Justice for All Ministry. Below are some pictures of the project.
Justice for All has been doing Spec Homes as fundraisers since the fall of 2011.  To give a little history as to where these spec homes have been completed, the first one was completed in Rock Valley, then Orange City, Sioux Center, Doon, Hull, Rock Valley, and Sheldon. Currently we are finishing up a project in Rock Valley and have plans to begin a fundraising project in Doon.
What makes the spec house fundraiser as successful as it has been is the generosity of contractors who are willing to donate to each project in each city.  We work to establish relationships with contractors, electricians, plumbers, carpenters, and others in each city where we are working on a project.  In each city during a project there is an opportunity for people to give of their expertise and knowledge, not just out of their checkbook.  Not everyone can go on a service and learning trip, or support any number of excellent charitable organizations through cash donations, but this offers the professional the ability to give of their knowledge and time.
The projects have been very successful for the ministry as all homes are sold at market value and all the proceeds go to fund the ministries at Justice for All.  It takes roughly 12-15 months to go from ground breaking to closing day for each house.  The many different communities speak to the number of generous kingdom-minded people that are living in them.
As Justice for All continues to develop relationships and revenue through the Spec House fundraisers, if you feel called to help, would like to know more, or have general questions contact JFA at 712.476.2804